That is all. I'll have to update more just to use this mood theme.

I will leave you with this:


I decided to bite the bullet and pay for LJ. Huh what why you never update? I hear you asking. (You are not asking that.) Well, I wanted to use my sweet Spaced animated mood theme. Oh HELL yes. Haha. And I have more userpics now so I will have to seek out some new ones.
Current Mood:

satisfied

Current Music:

Conan




That was purely Conan-esque. (Compliment.)

I watched three of last week's shows, and he's growing on me a little (I know E, I'm sorry! He's not THAT bad). He will never be Conan, but he's amusing enough to keep watching.

Dude needs to learn to keep it together though. I don't know if he ever didn't giggle on SNL and he seems to be having the same issues here. The Hills spoof is fairly hilarious.

Regardless of anything else, that as a stand-alone sketch is amazing. Hahahaha.
Your writers rule.
1. Federer (R-Fed) crushed the HELL OUT OF THAT DAMN SCOT MURRAY. Muwahahahahaha. wonderful.
2. "Flow-Motion" and "Swing Vision" are both USELESS, cbs. Get some new technologies. Sheesh.
3. Home audiences get 5 challenges per set. Or at least we should
4. Rafa's accent is ADORABLE.
5. Watching tennis at work = probably not a good idea, but who cares? Haha.
5 Things (not about Tennis)
1. HOCKEY STARTS SOON
2. ACL in about three weeks! I'm so excited.
3. I tried to watch the VMAs last night to see Russell Brand, but holy crap I could only take about 90 seconds of it before I wanted to gouge my eyes out with a fork.
4. The weather... she is strange.
5. I pulled a weird muscle in my stomach (abdomen?) when I was running on the treadmill this weekend, and it hurts. But I don't want to go to the doc.
1 More Thing (Bonus Thing!)
1. My Mom is Awesome. She found a Mozart bust for my art niche:
And without the flash: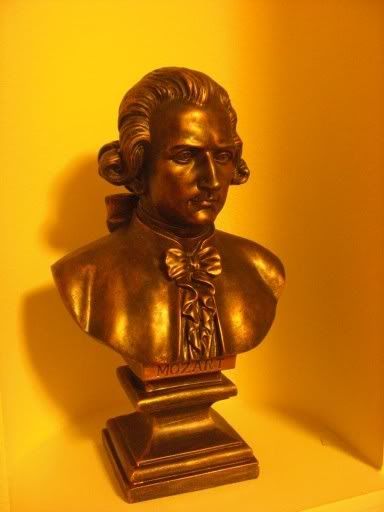 Man, it's awesome.
5 Things (about Tennis)
Current Location:

Apt. 245

Current Mood:

amused

Current Music:

The Stills - Statue of Sirens


And it was AMAZING.

Details later, but now I have to get to my bed before I pass out on the keyboard.
Why yes, I DID just see Eddie Izzard.
Anywho, there were some occasional ad-libs, which were hilarious. For instance, the "imaginary girlfriend" sketch (my total favorite of the night) was interrupted by vicious-sounding thunder, and Dave said, "Now I'm just trying really hard not to imagine a tornado." Haha. They also said "Go Stars" which made me happy. Also, I love Kevin. And Bruce. And all of them actually. It was hilarious, and it was super raunchy which made me uncomfortable as I was with my dear madre. So I was trying very hard (and not succeeding) not to laugh at "Carfuckers." I'm sorry, it was hilarious.
I was mildly disappointed that there was no Sizzler or Simon/Hecubus sketch, but oh well. There was plenty of other wonderful hilarity.
I didn't get great photos, but I got some decent ones. And heeeeeeere they are:
(
KITH! LIVE!
Collapse
)
I just got home from seeing the Kids in the Hall! :) I had been debating going and finally, today, decided to just go up there and see if I could get a ticket. Not only did I get a ticket, I got two FREE tickets from some radio station dude who happened to be standing there when I asked the box office lady what was still available. It was pretty sweet. Not only that, but we got inside and there was a seat conflict so we got UPGRADED! Even better. What a great night.
Current Mood:

chipper


Aaaaaaahhhhhhhhhh.

Seriously though, the first day of the air conditioner is great; the house has that smell... that sweet, summery smell. It's very nostalgic for me.

I heart A/C. (and A.C. Slater.)
Praise be to the higher power of your choosing: my parents finally turned on the air conditioner.
Current Mood:

cool


Since I'm too cheap for a paid account, we'll do this old-school multiple-choice stylee.

A. Austria!
Pros: Could probably stay with my friend Manuela for at least a bit of it, beautiful country, old imperial architecture, great museums.
Cons: A more expensive option; also, parentals having problems with me going myself overseas. (which is dumb since I'm 25. And it's not like I'm flying into Serbia or Iraq or something. ANYWAY.)

B. London!
Pros: It's London. Enough said.
Cons: The most expensive option. Parents might not have as much of an issue since I know my way around.

C. Pensacola Beach, FLA.
Pros: It's beautiful, I know my way around, it would be peaceful and relaxing. I can drive there and stay in a cheaper place for a few days and then come home.
Cons: I feel way lame going there myself. Seems depressing.

D. Other? Any suggestions????

I feel lame going almost anywhere myself actually, but my friends to go visit are all pretty busy right now so I can't really go see them/they can't go with me.

If I don't get away from the house soon, I will go even more completely nuts.
I am in desperate need of a vacation, people. Where should I go?


I didn't go to the ceremony, so there wasn't really any fanfare at home either, but that's okay. I have my degree; I actually did it.

Now the job search suddenly gets more imminent, and more serious.

I love you all.
I officially graduated with a Master of Arts in Museum Science yesterday.
Current Mood:

accomplished

Current Music:

Elbow- Presuming Ed (Rest Easy)


Edit: What the EFF?! Virgin, Borders, and Best Buy didn't even have "Turin Brakes" place cards! And the new album isn't on iTunes. ARGH. Look, I know it's going to suck anyway but come on. This is ridiculous. :(
I just hit my 10,000th song on last.fm. It seems like a landmark, haha. It was "Hey Mole" by Alfie. Going to buy the Turin Brakes album today. :)
Current Music:

Turin Brakes- Dark On Fire (the 10,001st song)
The Sunday Sched
).
I'm only torn in a couple of instances. I was planning on seeing Yo La Tengo in the 12:30 slot, but I've just heard a Ryan Shaw song and it was pretty good. So.... I'll probably still see Yo La Tengo.
Then clearly I'll catch the National, then Ben Kweller, then I have another conflict. DeVotchKa and Rodrigo y Gabriela. Any thoughts on this one? Anyway then it's on to Bloc Party, Regina, Wilco, the Decemberists, and Bob Dylan. A full day! There isn't really a time slot where I'm going to have to hang around bored, which is exciting.
Oh, and have I mentioned that the New Pornos album is great? Because it is. Sadly they will not be at ACL, but I will see them in November with Spooooon!
At present, that is all.
The whole fam is trekking down to Austin for Austin City Limits this year, although we're only attending Sunday. Turns out Sunday is pretty damn rockin (
Current Music:

Bloc Party- Hunting for Witches