1. Federer (R-Fed) crushed the HELL OUT OF THAT DAMN SCOT MURRAY. Muwahahahahaha. wonderful.
2. "Flow-Motion" and "Swing Vision" are both USELESS, cbs. Get some new technologies. Sheesh.
3. Home audiences get 5 challenges per set. Or at least we should
4. Rafa's accent is ADORABLE.
5. Watching tennis at work = probably not a good idea, but who cares? Haha.
5 Things (not about Tennis)
1. HOCKEY STARTS SOON
2. ACL in about three weeks! I'm so excited.
3. I tried to watch the VMAs last night to see Russell Brand, but holy crap I could only take about 90 seconds of it before I wanted to gouge my eyes out with a fork.
4. The weather... she is strange.
5. I pulled a weird muscle in my stomach (abdomen?) when I was running on the treadmill this weekend, and it hurts. But I don't want to go to the doc.
1 More Thing (Bonus Thing!)
1. My Mom is Awesome. She found a Mozart bust for my art niche:
And without the flash: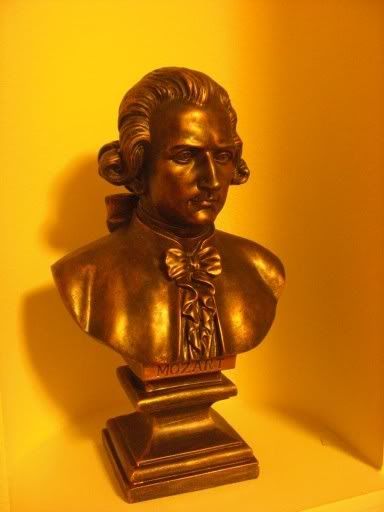 Man, it's awesome.
5 Things (about Tennis)
Current Location:

Apt. 245

Current Mood:

amused

Current Music:

The Stills - Statue of Sirens